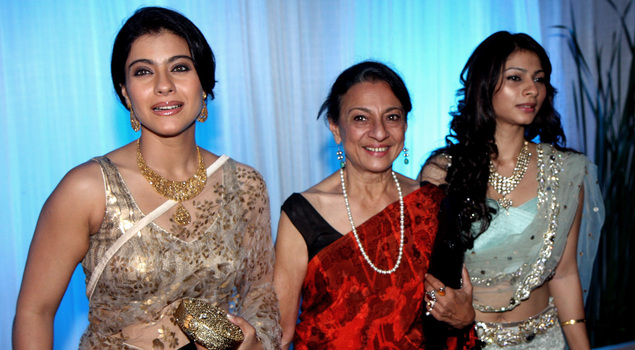 Veteran star Tanuja and actor Sonakshi Sinha got along like a house on fire while they were shooting in Patiala for Son of Sardaar, that also stars Tanuja's son-in-law Ajay Devgn and Sanjay Dutt.
It was Sona and Tanuja's passion for reading and their love to taste different varieties of delicacies which brought them together," says a source.
"Yes, Tanuja Aunty and Sona have become really close. They both love reading and would talk about their favourite books and authors all the time. They even recommend books to each other. Tanuja aunty is very fond of Sonakshi and she even cooked some tasty delicious Rajma for her when we were shooting in Patiala. In fact even post the shooting they call each other very often," quipped a source close to the team. Sonakshi, 25, is younger than Tanuja's two daughters, Kajol and Tanisha.
"Also after wrapping up the shoot Tanujaji and Sonakshi would stroll around near the farms and enjoy the scenic beauty. That was their ideal routine almost every day," informs a source close to the team.
Read more: http://india.nydailynews.com/entertainmentarticle/d1149fdb4b5ba1f145afe2a3d0d6454f/tanuja-sonakshi-hit-it-off-on-son-of-sardaar-set#ixzz2BVjLDmQ7