From the boy next door to a bad boy and now someone who is being very human, here's tracing Salman Khan's eventful journey!
Stardom was no cakewalk for Salman Khan, even if belonged to a filmy family. In 1988, he made is debut on the silver screen with a minor role in Biwi Ho To Aisi. It was Sooraj Barjatya's Maine Pyar Kiya in 1989 that made him a superstar overnight and even got him his best debut award.
He delivered back-to-back hits in early 90s, including Baaghi, Patthar Ke Phool and Sanam Bewafa. Despite these blockbuster successes, all his films in 1992-1993 resulted in flops. In 1994, Hum Aapke Hain Kaun, earning over 135 crore, became one of the biggest Bollywood hits ever. Since then Salman, has been making and breaking his own records by registering various hits to his name and his last release, Ek Tha Tiger, that has touched the Rs. 200 cr mark.
"After Rajinikanth only Salman has managed to create such fan frenzy. He is the Rajinikanth of Bollywood," says film expert Komal Nahata.
1988 
Boy Next Door 
Known to be experimental with his hairdos, Salman Khan kept his long hair look for a number of films during the late 80s and early 90s. After he kissed super stardom with his solo debut Maine Pyaar Kiya in 1989, followed by Baaghi, Sanam Bewafa and Pathar Ke Phool, whatsoever style he sported became an instant rage within
no time.
1994 
Six Pack Man
His reluctance to wear shirts and his sculpted chest became the in thing not just among fans, but also among his fellow actors in Bollywood. Many got inspired by his physique and his larger-than-life topless posters in girls' bedrooms and boys' gyms became a usual sight. He went on to be voted as the 7th most good looking man in the world and the first in India by People Magazine.
2003
Hair He Comes
Salman Khan's Tere Naam hairstyle became as much of a hit as the film itself. So much so that it made it to the list of top 10
memorable hairstyles in Bollywood according to an entertainment portal.
Back then, almost all salons had a big poster of Salman sporting the hairdo, and a long queue of youngsters asking to get the cut.
2005
Spikey Salman
From the long flicks blocking his sight, Salman went chop chop to spikes. This look, like all his other looks, got him a thumbs up from style critics and was widely followed … and perhaps it was because of this that he sported this look for the longest time – 3 years — keeping it short even as he tried different styles.
2008
Blond Ambition 
This time, he shocked every one with his blond-ish brown look. He grew his hair to waves and coloured them brown for his film Veer, and did not mind sporting the same look in real life. The look won maximum attention when the pictures of his spat with SRK ruled the media.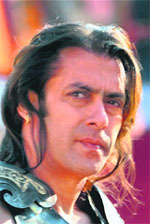 2010
Man with a Moustache 
He brought back the mooch style in Bollywood with his portrayal of a cop in the 2010 blockbuster, Dabangg. Though he called veteran actor Shatrughan Sinha as the inspiration behind his moustache, he himself became inspiration for many who sported this look after the film.

Controversies
26/11: Salman's apology post the 26/11 remark: "Every human life has equal value in any act of terror, anywhere in the world is unpardonable. Be it 9/11 or 26/11."

2002: Salman Khan was accused of allegedly running over five people, killing one and injuring others on a Mumbai pavement in September 2002. He spent 17 days in jail. He clarified later that he was not driving.
2006: In February 2006, Salman was convicted under the Wildlife Act for poaching a Chinkara in Jodhpur during the shooting of film Hum Saath Saath Hain in September 1998.
He was sentenced to one-year imprisonment and was slapped a fine of Rs. 5,000.
2008: Salman and Shah Rukh Khan broke into a heated argument resulting in a physical fight at Salman's then girlfriend and actor Katrina Kaif's birthday party at a restaurant in Mumbai. The two have not buried the hatchet yet.
Vivek Saga 
Actor Vivek Oberoi ruffled feathers in 2003 with his claim at a press conference that Salman had abused him and threatened to kill him as Vivek was close to Salman's ex-girlfriend, Aishwarya Rai.
Personal Relationships
1989: Salman's first lady love was model turned actor Sangeeta Bijlani. The two broke up after a couple of years. After their split, Sangeeta married former Indian Cricket team captain, Azharuddin.
1993: Somy Ali, 19, came to Mumbai from US. With Salman's help, she made her debut in Anth (1993). The two came close but eventually broke up in 1998.
1999: Salman and Aishwarya Rai's romance began while they were shooting for Hum Dil De Chuke Sanam. Their love life ended in 2002 on a turbulent note as Salman was accused of abusing her.

2003: Katrina Kaif met Salman when she was a struggling model. The two came close when Salman mentored her and got her plum film projects. They parted ways in 2008.
Few of his Talktimeline
The court can hang me. I am tired of such lengthy proceedings.
(January 2006)
I'm not possessive, I'm caring. Once you realise a person doesn't want that much care, you back off
Dad's Pathan, Mom's Rajput, 2nd mom's Christian, in school they asked me what religion: dad said Human (May 2010)
Actor to god father

1998: Salman gave Himesh Reshammiya his first break as a music composer in Pyaar Kiya To Darna Kya.
Over the years he continued to play god father to different talents in film industry Fashion designer -Vikram phadnis, music composer – sajid wajid, dialogue writers sajid-farhad and others.
2010: Mentored Sonakshi
Sinha and Zarine Khan, who made their debut with him in Dabangg
and Veer respectively, to lose weight and go places
2011: Playing Godfather to many including Hazel Keech who worked with him in Bodyguard, Pulkit Samrat, Arjun Kapoor, Ram Charan, Tiger Shroff and Dev Anand's nephew Vaibhav Anand.
Mentor
Helped Hrithik Roshan to build body early in his career
Inspired Sonakshi Sinha to lose weight before making her debut in Bollywood
Fact File
Born on
27 December 1965 at Indore, Madhya Pradesh
Full name 
Abdul Rashid Salim Salman Khan
First Film
A multi-starrer movie, Biwi Ho To Aisi (1988)
Family
Screenwriter Salim Khan (father) and Salma Khan (mother), Helen Richardson (step mother), Arbaaz and Sohail Khan (brothers)
http://www.hindustantimes.com/Entertainment/Bollywood/OVER-THE-YEARS-Such-a-long-way-Sallu/Article1-9204 87.apx