No Comments
Deepika keeps promise; meets jawans despite sickness
Sneha Mahadevan (DNA; August 18, 2012)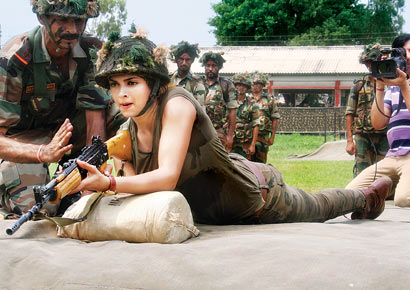 Deepika Padukone
After the recent success of her last release, Cocktail, actor Deepika Padukone has taken time off to celebrate with her family. The actor, who has been working non-stop for the past couple of months, juggling between her different shooting schedules, finally decided to take a break and spend some time with her family in Bangalore, as she was very homesick. She hadn't met her family in months, but just when she had her plans in place she caught the flu. She then decided to head to Bangalore, where she is currently recuperating.
The actor had recently committed that she would travel to the Jammu border to interact and meet the jawans of the Indian army on Independence Day. A source close to her says, "This was something Deepika had wanted to do for a long time. She had already made a commitment that she will be there in Jammu to meet the jawans as she wanted to do something worthwhile on Independence Day. So despite not keeping too well, she kept her promise made to the jawans. She travelled to the Jammu border to meet the jawans and spent an entire day with them."
Talking about her experience, she says, "I enjoyed the tank ride and would like to do it over and over again. I really had a wonderful time while they took me through their training."
Deepika also learned to rifle shoot and was game to participate in a special training that the jawans put her through. She also chatted with them about her life and career in Bollywood. A lot of jawans had questions to ask about her films, which she patiently answered. She also had meals with them and listened to the stories they had to tell about their lives. She looked very happy to spend time with them and the jawans were also equally happy to have Deepika over. The jawans knew her and some of them apparently even complimented her as they spoke about her films.
LINK
http://fenilandbollywood.com/2012/08/18/deepika-keeps-promise-meets-jawans-despite-sickness/