No Comments
Salman records promo for Indian Railways
Sneha Mahadevan (DNA; August 15, 2012)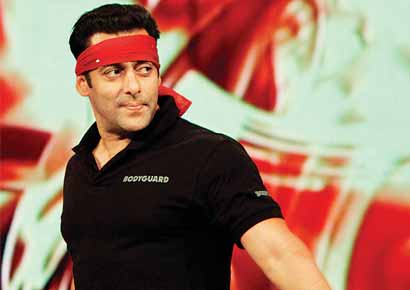 Salman Khan
Actor Salman Khan who owns an NGO, Being Human, literally believes in spreading goodwill and humanity. Known for his philanthropic ways, Salman recently went out of his way to record a special promo as a tribute to the Indian railways. The actor has shot several fight sequences and stunts in trains for his films including Wanted, Dabbang, Ready and even Bodyguard. Since his next release, Ek Tha Tiger has been extensively shot abroad; he couldn't incorporate any train sequences this time. So as a tribute, he has recorded a special promo as a tribute to the railways.
A source close to him says, "It is a known fact that Salman always tries to help promote and push causes or organizations he strongly feels for. Similarly, Indian Railways has always been kind to Salman, as they have granted him permission to shoot each time for all his films. Whether it was Salman bashing up the villains or him at a railway platform, all his last few releases have given the railways a prominent significance. However this was not possible with his forthcoming film. Salman was obviously not too happy with that but at the same time it wasn't possible to incorporate anything in the film. But Salman being the person that he is, thought of something innovative. He recorded a special promo for the Indian railways in his voice."
The promo apparently has Salman talk in the same tone as that of railway announcers urging people to go watch his film.
LINK
http://fenilandbollywood.com/2012/08/16/salman-records-promo-for-indian-railways/