One Comment
I am re-introducing a superstar-Kabir Khan
Chhaya Unnikrishnan (DNA; August 13, 2012)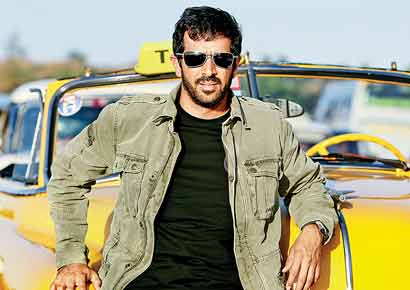 Kabir Khan
A documentary filmmaker, Kabir Khan made his directorial debut with Kabul Express that chronicled his experiences in the strife-torn Afghanistan. His next outing New York set against the backdrop of the 9/11 spoke of prejudices against certain religions after the tragedy. His latest and most amibitious film Ek Tha Tiger is a romantic thriller woven around a secret agent. The greatest thrill says Kabir, is re-introducing superstar Salman Khan in a raw, rugged, edgy avatar never seen before…

Ek Tha Tiger is your most ambitious film. What are your expectations?
In terms of scale and magnitude, it is the most expensive film shot across three continents and five countries with the biggest stars in the Indian industry. It is definitely a very ambitious film. The narrative is of a fast-paced thriller but it is a passionate love story. I am happy with the way the film has shaped up despite all the logistical issues. People are reacting very well to the teasers and I am very confident of the film.
There were reports that Salman interfered in the filmmaking process and his erratic timings affected the shoot…
If that was true, we wouldn't have finished the film on time. Salman has a certain style of functioning, so it was a matter of intelligent scheduling and working around it. As for interference, let me tell you that as a filmmaker I enjoy suggestions and contributions from everybody including my junior ADs (assistant directors). If the lead actor does not give suggestions, it means he is either brain dead or not interested in your film. I am not a creatively pompous director. I have taken suggestions from all my actors including Katrina (Kaif) and Girish Karnad. The good thing about Salman was that even though he gave suggestions, he never forced them. There's no ego in the man. Whatever he does, it does not come from a position of power.
From making documentaries to directing the biggest stars, you have come a long way…
Yes, and it's been a very enjoyable process. I loved making documentaries and will someday get back to it as I have certain ideas. Of course, my first film Kabul Express will always be special because it was auto-biographical. Then with New York, I went mainstream with a very real political context, going against a lot of conventional wisdom that said you should not do this. However, the super-success of the film enabled my producer to give me as big a platform as I want for my next film Ek Tha Tiger. It's been a rewarding experience and I have grown with each film.
What next?
I haven't really thought about it. I am too focussed on Ek Tha Tiger right now. But I have a script ready with me. In fact, it is the first script that I had written but since it is an ambitious project, I had kept it on the backburner. I needed to reach a certain stature before producers could back that vision of mine. Also, Bollywood itself has undergone a lot of changes since Kabul Express happened. There is space for both true blue Bollywood films as well as alternative storytelling in new voices.
LINK
http://fenilandbollywood.com/2012/08/13/i-am-re-introducing-a-superstar-kabir-khan/