No Comments
Main saat mahine kone main baitha rahun-Akshay Kumar
DNA (May 25, 2012)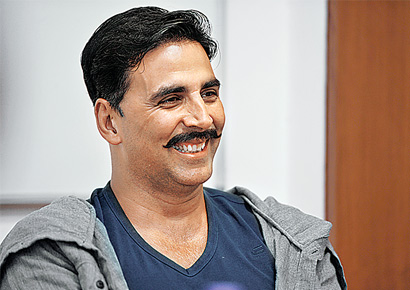 Akshay Kumar
DNA
Tinsel town's Akshay Kumar took time out to share with DNA his new world view, his sense of humour, and yes, excitement over much-awaited baby number two.
Does your son Aarav enjoy seeing you do more of action?
You know how many times he's come for shooting? Twice. He's nine years old, he's just come twice. So I don't think he enjoys it.
But your movies?
Yes, yes, he watches my movies. He's the first guy to come and tell me 'Dad, I didn't enjoy it. You're boring' (laughs aloud).
When did he say this to you?
I can't name the films (laughs). I don't want the producer or anyone to feel bad about it. But yes, he (Aarav) does. They (kids) have their own mind, they're grown up. Aarav is just nine, and it's amazing to watch him. He's grown so much. At times, when I am doing something on the computer, and he happens to pass by, he says, 'Dad, this is not the way, see this is how you do it.' Even I'm shocked… It's very fast how children say 'You don't know anything Dad.' Shocking!
So, what do you enjoy doing more — comedy or action?
I enjoy action; it's easy. It may look difficult for a lot of people, but I enjoy it. Kick marna hai, punch marna hai, girana hai, jump marna hai, cable daal ke, they make you jump from the 21st floor, 50th floor — it's so much of fun.
You are known to be fitness conscious. With your erratic timing as an actor, how do you keep to your workout schedule?
I try and schedule it, but basically I work out early morning. I start my day at 4.30 in the morning.
But you keep to it regularly?
Absolutely regularly! I have no choice, because these bloody newcomers are coming and I have to be on my toes (laughs).
Do you think newcomers have it easy today, as compared to when you started?
No, it's not easy. But yes, there are a lot of other places they can enter. Like TV is there, ads are there. If you're not getting to the big screen, you have lot of areas where you can enter. So many channels, so much software being made, but to enter in as a Bollywood hero and stay there… it's very hard, very hard!
You are an A-list hero, your family life is rocking — you're now going to have another baby. Is there anything left for you to conquer?
I want to buy an island.
You're joking?
No, I'm really serious. I want to buy an island. I want to live on an island. And this is a dream! I can only dream.
Like Maldives?
Anywhere. It doesn't matter. If you give me outside of Madh Island too, will do. But an island is an island. Who wouldn't like it?
Are you interested in plays?
Yes, I've just bought the rights of a play. I'm making a film out of it called OMG! It's a very interesting play that I saw and decided to buy the rights.
Isn't that a Gujarati play?
Uh, it was Gujarati, actually pahle woh Marathi mein tha, phir Gujarati mein phir Hindi mein. Hindi mein Paresh (Rawal) ne kiya aur usne kareeb 750 shows kiye. It's a very famous play. It's about a man who sues God. It's actually a real story that happened in San Francisco.
Are you going to be seen in the film?
No I'm not..I'm just putting the moolah. I play a small part, very small, but the real hero is Paresh.
You're already producing movies. Do you think you would want to write a script and probably direct?
No scriptwriting, no direction. But maybe, you never know in the future. I thought that I wouldn't produce a film, but then I became a producer. But at the moment I can't direct. Because direction in itself is, again requries a lot of patience. If you're directing a film, you have to concentrate on that for a whole year.
What about TV shows? Are you doing any?
No, I've given one year of gap for myself, for doing any TV shows because I've started this company – Grazing Goat(laughs), and I'm making a Marathi film also, two in fact. I'll be making one Punjabi film too.
What about producing TV shows?
I would love to, but not yet.
So, are you enjoying all the action in Rowdy Rathore?
Yes, I am enjoying myself. It's great to be back and do action, specially with a guy like Prabhu Dheva, who's known for this action film which he made, Wanted. And he gave me a very good action master also, Arnold, a young guy and he's amazing, the way he's done the action. I've done the typical raw South Indian action. However, though I was not doing action in front of the camera, everyday I practice my parkour where I do the kicks and jumps.
Is there one particular scene you want to tell us about or perhaps a prank…?
Yes, I played a prank. I was in this police uniform and me and Sonakshi had a shot where we're on the motorbike. Since our hotel was one kilometre ahead, after we packed up, I said chal Sonakshi, we'll go on the bike. We were on the main road, in Badami and suddenly I saw in the mirror that there was this motorcycle riding behind with a man, a woman and two children on it. I said, chal masti karte hain. I just got down, stopped the man behind and asked asked him for the licence. Now, he knows me, but at that time, it is just the uniform he's watching. He can't imagine Akshay standing there. And I am saying 'chalo jaldi karo, licence do'. He didn't have a licence, he was going double seat, triple seat… four people were there. For two minutes I harassed him and his wife started crying. I felt bad, Sonakshi came running, and I said 'mein mazak kar raha hoon, lekin bhaiya aap char jan mat jaya karo, do ya teen jaya karo' and I laughed. His wife was crying, that was the worst thing.
What's with the moustache thing? Where is the inspiration from, for this particular style? The South?
No. South Indians also have this moustache, even Rajasthani people have this moustache. Rathore is Rajput.
Do you like it?
I hate it. I like having my own moustache but not a nakli one.
This is nakli one?
(Laughter, Akshay smirks) I hate that I have to put spirit gum and then stick it.
So why didn't you grow it?… Maintain a real one for the role?
You know it takes seven months to get a moustache like this! Main saat mahine kone main baitha rahun? Without work? Thinking one day it will grow, and I will start shooting instead of taking the help of technology, wigs and moustaches (laughs)…
At least you won't hate it.
Yes, but I'd rather hate it rather than just sit (without work).
What does your wife think?
About the moustache? She's never seen me in a moustache. I don't go home like this! I don't like to walk around like this.
She must have seen your look in the movie.
Yes, this is just a look for her. She's from a film background. Her father must have worn these so many times. For her it's nothing new. (Exasperated) 'What does your wife think?' So, like we sit on the table and talk about the moustache — is this something to talk about?!
How different is the action with a South flavour from what you have done earlier?
It's the camera angles that make it different. They change it so much that you realise you've never seen it before. Hamare yahan, jo typical fight masters hote hai, they put a very…you come to know who's directed this, which one is directed by the South Indians, which ones are directed by the North Indians. It's just like food. You come to know through the takes only. Though the punches are the same, the difference is in the angles. They change the whole scenario.
Do you watch South films?
I love South films. The only thing I don't like about them is they are too long. But their ideas are very different. I was just reading somewhere about this forthcoming film about a fly taking revenge. It's about reincarnation. A fly!